Return to School - August info
Last updated 24.8.2020
******** See face coverings for new update
Autumn term full return to school plan
Please also visit the Leicester City Council page which has useful information about children returning to school next week - https://www.leicester.gov.uk/schools-and-learning/school-and-colleges/returning-to-school-for-the-autumn-term/
The Government has announced that all pupils are to return to school in the Autumn term and we are extremely pleased to prepare for this full school return. Government latest guidance:
'The balance of risk will be overwhelmingly in favour of children returning to school as the benefits of being back in school far outweigh the very low risk from Coronavirus.'
All of this information is in response to the latest guidance at this time and these plans will be constantly reviewed and fully communicated to you.
We are looking forward to reconnecting with all of our pupils and welcoming the new Year 3 to our school. The transition for each year group has been far from normal but we hope the introductory videos from your new class teachers has helped each child have more of an idea of who they will be taught by next year.
This document will aim to inform you of the start dates, arrival and departure times and explain some of our processes in order to be able to have a safe full school return in the Autumn term.
There is a lot of information in this document, but we hope to be as clear as we can. However, if there is anything you are unsure about or need clarification on, then please do ask via the slt@overdale-jun.leicester.sch.uk email address.
We all acknowledge that every family and every child will have had a very different experience during this lockdown. We also acknowledge that our children need to be back at school mixing with other pupils and to continue their education. Thank you for all the support you have given your child with their work which we have set via the website during the lockdown and for all of the other meaningful experiences which they have had. We will be able look back at this time in history with some interesting stories to tell.
The Government fully intends for every pupil to attend school once it opens in the new term. We will be reverting back to the usual attendance requirements in the Autumn term and we will expect to see all pupils with excellent attendance.
You will be aware, that in order for schools to re-open fully, we have to organise the school in to 'Bubbles'. This is to reduce the risk of spreading an infection and to be able to trace those that might need to go home and self-isolate if necessary. The bubbles are not to mix, therefore we will have staggered start/finish times to the school day, break and lunch times.
We have decided to split the year groups in half resulting in two bubbles per year group. This is purely down to the design of our school building which features stairs, long corridors, classrooms without their own external doors and two pupil entrances/exits. In normal circumstances, the building functions very well, but we need to adapt in order to meet the increased requirements. Having 8 bubbles across the school enables us to still function as a school and provide effective learning periods during the day without too much disruption.
Please be reminded that if one child or adult in the bubble was to have a positive test result for Covid-19, the whole bubble will have to isolate which could be up to 60 pupils. If necessary, the whole year group could be sent home or the whole school. This will only happen following guidance from Public Health England.
We have tried to limit this potential disruption as best we can and we feel this is the only option in order to be able to deliver a broad curriculum and to ensure that the logistics of moving bubbles around the school at key times does not interrupt the flow and reduce the learning time which we all so desperately need.
Movement around the building is reduced to a minimum and there is a one-way system in place. This does involve using the stairs to get around the building for all children. No child will be unsupervised and will be escorted to the toilets etc.
As a school we will implement a system of controls to reduce the risk of transmission these will include:
grouping children together
avoiding contact between groups
arranging classrooms with forward facing desks
staff maintaining distance from children and other staff as much as possible
staggered drop off and collection times
enhanced cleaning
one-way system around the building
******** Update: Face coverings for pupils and staff
We want pupils and families to come to school and feel safe and comfortable.
Therefore, it will be absolutely fine for pupils to wear face coverings if they wish.
Even though it isn't recommended for schools yet, we are more than happy for pupils to wear a face covering in the classroom and on site.
What we can't do is promise to manage the face covering for them.
They need to be capable to wear it correctly and take care of it without touching their mouth and eyes and be very sensible with them.
We are not going to stop them from wearing them.
Unfortunately, the video I made at the weekend says differently.
Staff will be informed of this change and will expect some pupils to wear masks if they choose.
Start of term date:
As you are fully aware, school came to an abrupt halt in March which resulted in the Year 2 having no opportunity to visit OJS or meet their new teachers. We are confident that our pupils will settle back into school life quickly, but we want to give them an opportunity to transition gently. Therefore, we have decided to take the new Year 3 pupils on their own for the first full day. This will enable them to have a look around the building and site, work out the new routines and get to know their class teachers before the other pupils arrive. I'm sure you will remember the excitement but also nerves when your child started at the junior school. The rest of the pupils will start on the Thursday.
Wednesday 26th August - New Year 3 only
(Home learning activities will be provided online via the website or other means if this is possible for all other pupils – details to follow)
Thursday 27th August - Full school return (Year 3, Year 4, Year 5 and Year 6)
Arrival time and departure time:
As we are a shared site with the pre-school and Infant school, there is a large number of people that need to move around the site safely. We have staggered the start and end of day in order to be able to manage the flow of people on the grounds and inside the building.
At this time you are to arrive at the school gate and enter the school site. You will not be permitted to enter earlier. You will need to follow the entrance signs and procedures below.
It is important that the arrival times are adhered to in order to ensure a safe arrival for our pupils.
Year 6

Year 5

Year 4

Year 3

Arrival on site

(not before)

8:30

8:45

9:00

9:15

Departure

(meet children on the playground)

2:45

3:00

3:15

3:30
We want to support our families, so please do speak to us individually if you will have end of day issues and we will see what we can do.
********Updated: siblings:
We want to help those that have siblings across the whole site. Therefore, we are willing to hold siblings in their classrooms (children will be asked to sit with their reading book). You are to work to the earliest start time. Likewise, we will do the same at the end of the day.
e.g. You have a child in Y4 and Y3. Drop both children off at 9:00 and collect them both at 3:30.
If numbers become unmanageable and has a negative impact on staggered start/finish time, then we will have to remove this offer.
********Updated: Entering and leaving the site (one-way system):
Enter only via the Eastcourt Road gate
Exit only via the Overdale Road gate
Ash Close gate will be closed at all times
Staff will be on site to direct you
Please follow the signs
Children will go straight into class
Parents/carers are asked to not hang around – one adult per family to enter the site
Preferably, parents/carers will leave pupils at the gate
Alternatively, parents/carers will be asked to leave pupils at the drop off zones
On leaving staff will direct you to the safe exit route
All children and adults must follow instructions carefully at all times to help us maintain social distancing
******** NEW: Safe lining up:
We strongly urge parents and carers to manage your queueing at the school gate and on school site.
Please don't loiter once children have been dropped off
Please respect other parents/carers by not blocking paths and keep the flow of movement
We STRONGLY encourage all adults to wear face coverings whilst queueing.
Please respect the neighbours by keeping the noise down, ensuring we stick to the paths and be aware that residents might need to access their driveways.
Travel to school plan:
Safety around our school site is important especially when social distancing measures need to be in place. In order to allow pupils and parents/carers, please:
Walk to school where possible
Do not park on nearby streets particularly Overdale Road and Eastcourt Road
1 adult only on site (if an adult is needed)
********Updated: Uniform and equipment:
School uniform is required as of Autumn term
PE kits are needed in school at all times (we will return all PE kits in the new term once they have been sorted over the summer)
Bags and book bags can be brought into school.
Pupils will be given their own pencil case with pencils, pens, colouring pencils, ruler, eraser, scissors, glue stick and sharpener to reduce the amount of resources needed to be shared
Water bottle (labelled, washed and filled up every day at home)
Coat (waterproof and warm) – fleeces are not coats
********New: Coats and PE equipment:
We will be going outside as much as possible and will only not go out in extreme weather.
Please provide a suitable waterproof coat for EVERY day
Please provide an all-weather PE kit including a jumper and suitable trousers and footwear.
******** New: Reading books:
Children will be given two reading books. One to be kept at school and the other to go home.
When pupils return their books from home, they will be kept in a box in quarantine for 72 hours before they go back onto the shelves.
Lunch:
Lunches will be eaten in classrooms (don't take lunchboxes to the dining room)
School dinners can be ordered on the day. Please see the menu below.
Children will have a morning and lunch play time within their bubble outside if the weather allows.
********** Updated: Hygiene:
Pupils will continue to wash their hands regularly and use the hand sanitizers when entering/leaving the building – every class has a hand sanitizer
Children may bring in their own hand wash/sanitizer but this must not be shared with any other pupils
Please inform class teachers if a child is not to use a hand sanitizer and please help by providing an alternative
A member of the premises team will be on site throughout the day to regularly clean key and frequently used areas.
********* Updated: Office/reception:
Admission to the school office and reception is by appointment only.
Please email or call our admin team who will process and answer your query as quickly as possible.
Please don't enter the main entrance unless you have an appointment.
Behaviour:
We will be reinforcing the school behaviour policy which has been reviewed in the light of Covid-19.
Looking ahead and Microsoft Teams:
We are very proud of the Home Learning offer which we provided during the lockdown. According to our recent survey, 86% of our parents and carers thought their child made progress. 89% of the pupils enjoyed or mostly enjoyed the tasks and 83% thought it was the right amount of screen time with 9% thought there was too little and 9% thought there was too much screen time (rounded figures). It is amazing that your support at home in giving the pupils the time and space to work at home meant that 87% engaged in the activities of average 4-5 times a week. However, we always said from the very first day that families should do only what they could manage and it's great to hear of some of the other things pupils and families did during the lockdown.
As a school, we endeavour to constantly improve and we are working to provide more direct teaching and online learning space in the Autumn term using Microsoft Teams. This could be part of weekly homework tasks and will help us be ready for another national or local lockdown, if needed, and to provide suitable online learning as another way of learning. More details will follow in the near future.
*********** NEW: New Y4, Y5 and Y6 pupils should receive their own Microsoft Teams username and passwords in the post in the next few days. The aim is to have all of these children meet their class teacher and their classes online on Wednesday 26th August. Our staff team have worked very hard over the summer to learn how to use Teams for the classroom and are excited to see as many of them as possible online on Wednesday.
Learning Plan:
Our initial focus will be establishing routines and becoming familiar with the environment and new class staff.
We will focus on social and emotional wellbeing activities.
We will be carrying ongoing informal assessment with all children and using this to plan next steps to address any lost learning.
PE will be conducted outside.
Once the children have settled, they will have access to a full, broad and balanced curriculum.
Each class will adopt nurturing principles and practices and will have access to a number of interventions to address gaps in learning.
Year 4 multiplication tests and Year 6 SATs tests will be carried out later in the year.
SEND Teaching Assistant Support:
We will endeavour to meet the provision needs as indicated in the children's EHCP, whilst adhering to social distancing. "It may not be possible to provide the full range of provision set out in the Plan and it may be necessary to make different arrangements." (Planning Guide for Primary Schools, Gov.uk)
Should meeting provision within the classroom contravene social distancing, the SENDCo will advise and recommend alternative provision.
Should children require close medical attention or intimate care as a result of their need, the appropriate PPE will be worn in line with the needs of both the individual SEN risk assessment and the school risk assessments.
Safeguarding:
The Senior Leadership Team will continue to support the needs of all children in school.
Designated Safeguarding Leads will continue to be on site every day.
This will include adherence to the Keeping Children Safe in Education guidance with regard to safeguarding all children.
Concerns and disclosures will be logged using CPOMS (our online recording system), alerting Designated Safeguarding Leads who will action any support.
Bubbles:
Bubbles are groups of pupils and adults that can mix together at play times
They are made up two classes from the same year group
There will be roughly 60 pupils per bubble
Keeping the bubbles separate reduces the risk of transmission of Covid-19 across large groups of people
It also reduces the amount of pupils and staff needed to be sent home to self-isolate if there is an infection as bubbles are kept separate.
However, there may be the possibility that the whole year group or school might need to self-isolate if the infection goes across bubbles. We work very hard to reduce this as much as we can.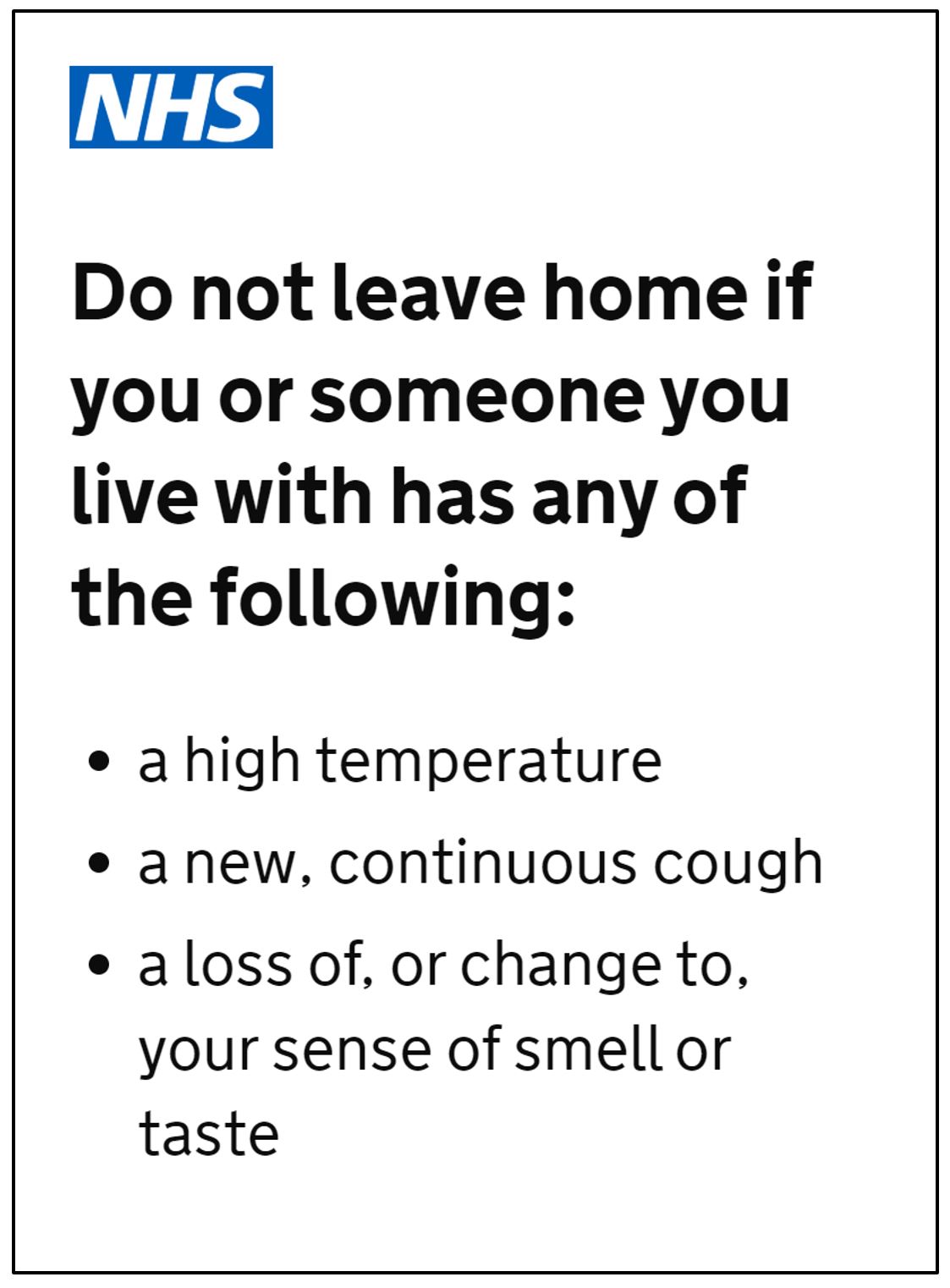 ********** Updated: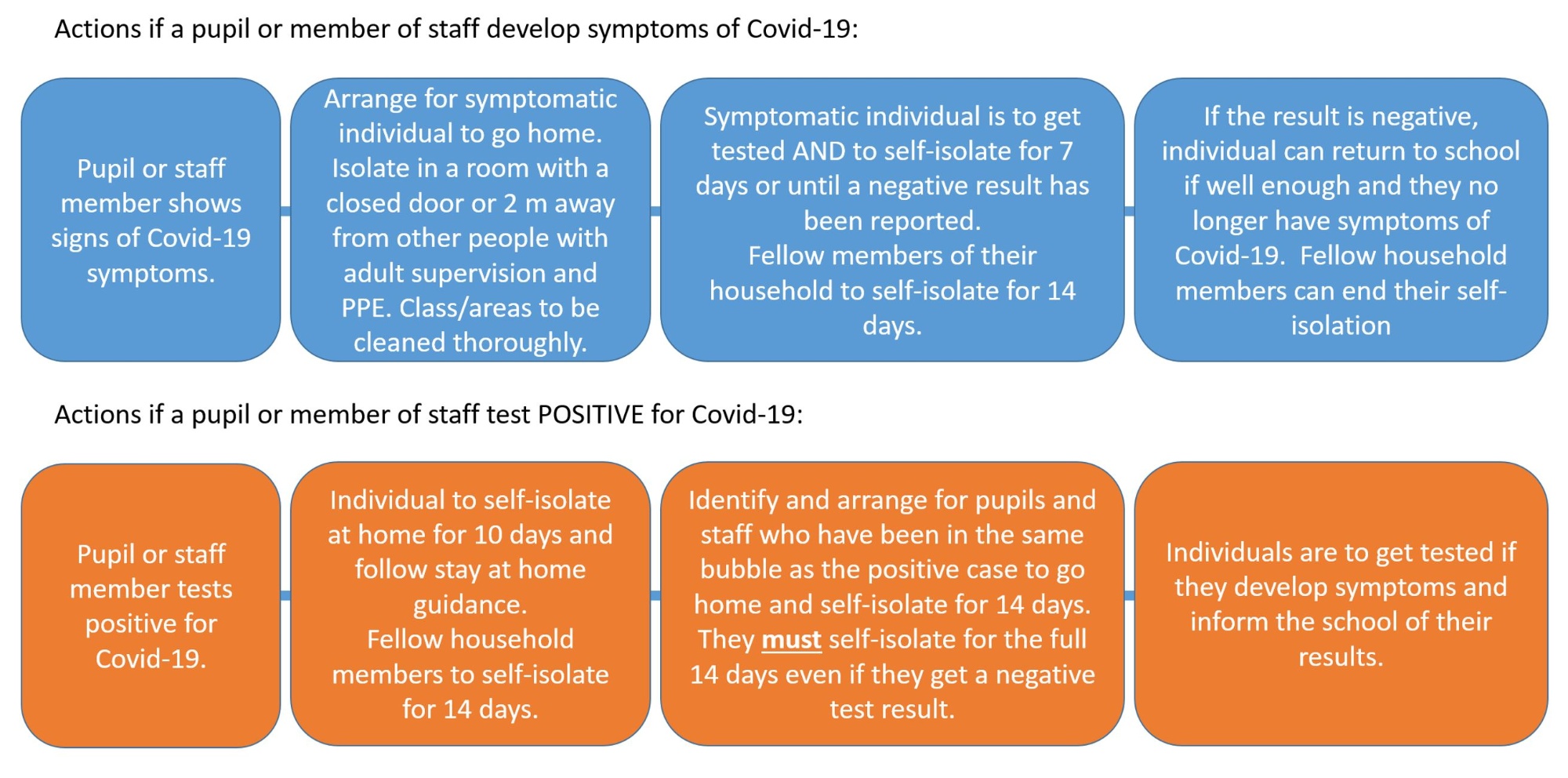 ******** Updated: Site access:
We have a one-way system onto the school site and out.
Access is from the Eastcourt Road entrance only (next to the infants).
Everyone will then exit the site at the Overdale Road exit.
We will trial this and see how it goes.
The Ash Close gate will remain closed.
Adults are encouraged to wear face masks whilst queueing.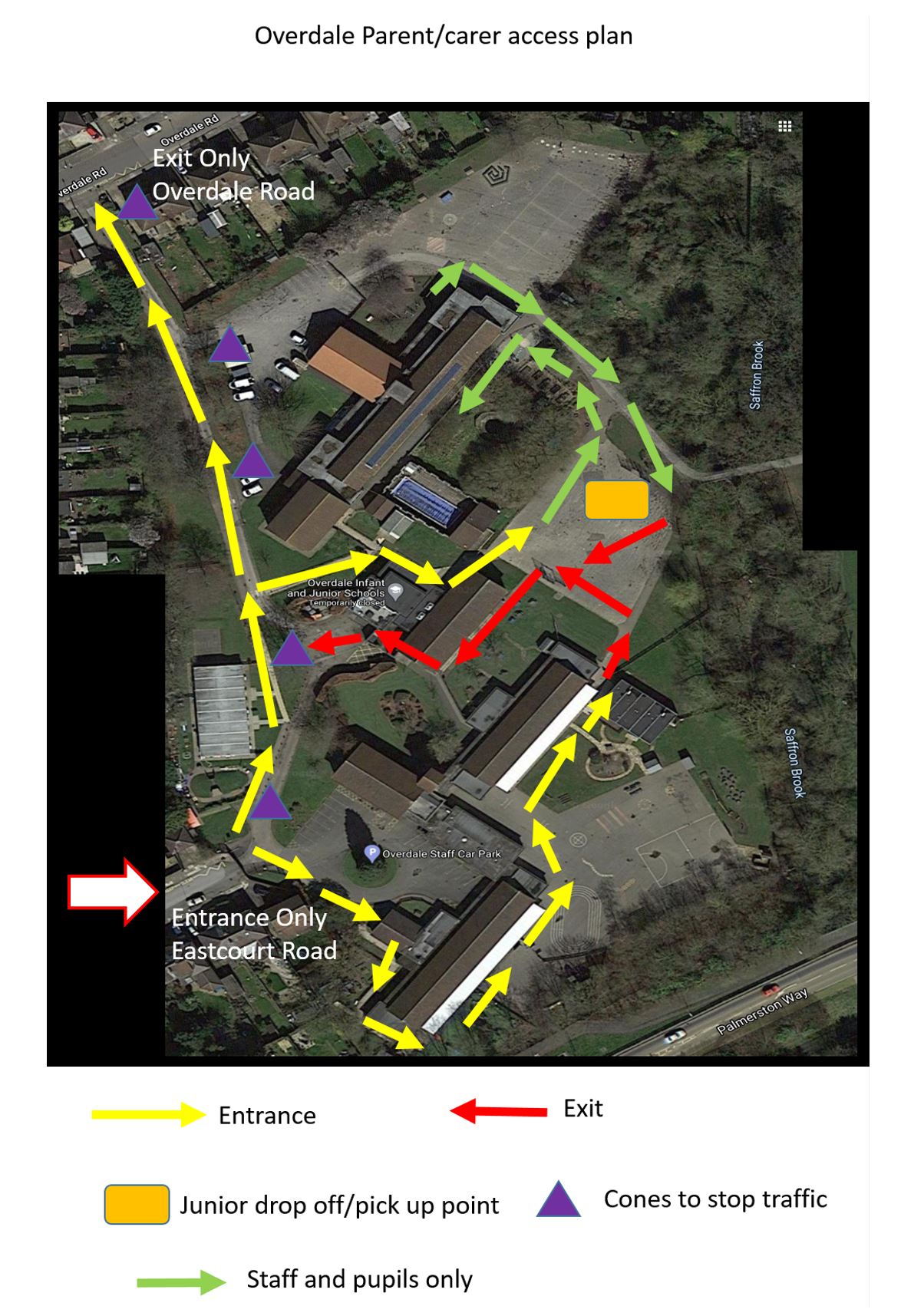 School menu: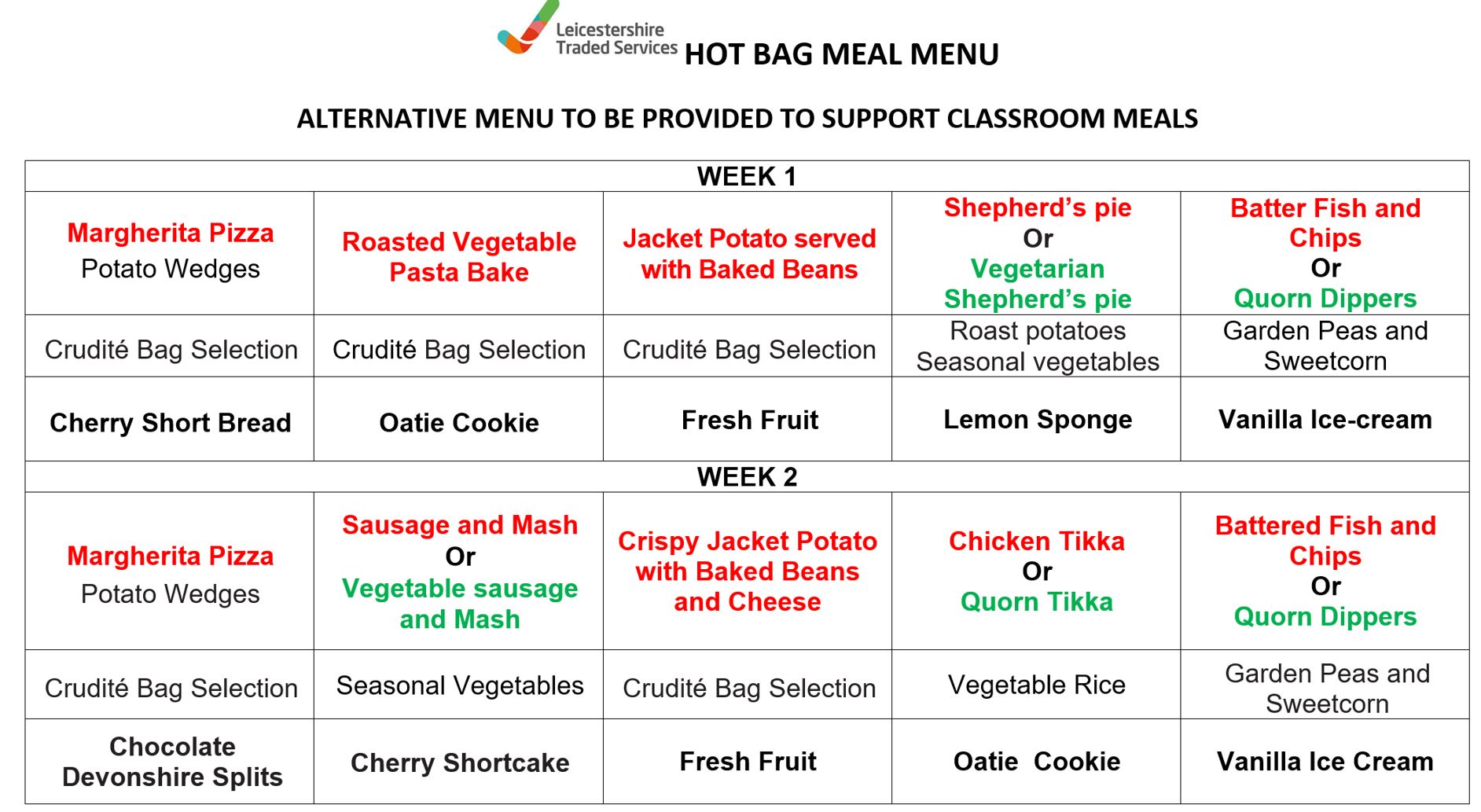 Again, all of these plans will be constantly reviewed and this will be fully communicated to you.
Thank you for all of your support, cooperation and positivity during this time. This is a challenging time for everyone but we hope that the pupils will feel settled and comfortable in their classes, bubbles and surroundings very quickly.
Mr Evans
Headteacher
This page is currently awaiting content