Homework
We believe that homework is an important part of the learning process for our children. From conversations with your child, you may know that at OJS we are very focused on retrieving learning. Going back to previous learning multiple times strengthens our children's knowledge and makes it easier for them to remember and retain their learning in the future. That is why this year we have changed the way we present our homework. Everything your child takes home as homework (except reading and spellings) will be something they have already covered in school. The job of the homework is for children to retrieve and practise that learning to strengthen their understanding.
Children are not expected to complete all homework in one stretch. This might work for some children, but others will need short bursts. It is key to have a regular routine for completing homework.
Homework will be given out on a Friday and needs to be returned by Wednesday.
Marking
To give ownership back to the children and to help recognise any errors, the homework answers will be available on the school website for children to check before they bring it back to school. It is now the expectation children mark their work before returning it to their teacher. Teachers will then praise the children for their hard work.
What is expected
Maths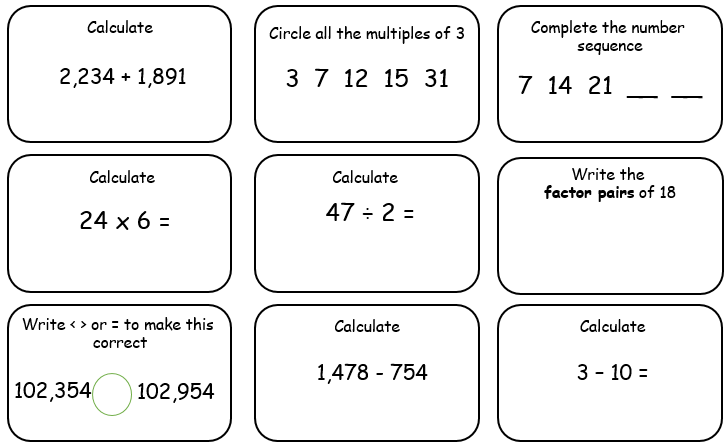 Your children will receive a double sided sheet for maths homework. One side will focus on retrieving knowledge that has been taught recently, in previous weeks and terms. The other side is practise of arithmetic, quick calculation practise. In all, this sheet should take 20-30 minutes to complete.
English
The English homework will be sent home in the same format to be completed. This sheet should take up to 20 minutes.
Reading
Children are expected to read at home every day for at least 20 minutes. This is their most important homework of all as it will support their learning in every subject. It is really important that you share their reading with them as often as you can – either listening to them or reading with them – to emphasise the importance, to offer tips and to enjoy reading together! Please fill in your child's Reading Journal to show what they have read each week. Children need to bring this in each Wednesday.
In Year 3 (and some children further up the school), in addition to a pleasure book which children can select to take home to read themselves or for you to read to them, children will have a reading scheme book. These reading scheme books need to be read at home every day – including practising the sounds at the beginning of each book. They are not just to read once to find out 'what happened', these books are to be read out loud and practiced repeatedly until children can 'perform' them perfectly. Children get a new reading scheme book once they prove that they can read the book with 100% accuracy - not adding or missing any words out, and not replacing any words with similar ones. They need to read it out loud with expression: leaving pauses for punctuation, putting on voices for the characters and acting it out with feeling! Think of them as a play script that they are rehearsing. While children are reading the scheme books it is crucial that you listen to them reading them out loud as often as possible so that you can check and offer advice. Once children are completely fluent, they will move off scheme books and become free readers.
Spellings
Children will be set 12 words every two weeks that follow a spelling pattern. Children need to practice this pattern at home regularly. At the end of two weeks, children will have a 'Spelling Showdown' in class – this tests their spelling knowledge in a fun 'quiz show' type format. We will teach the children different strategies to help them learn their spellings and we encourage children to use ones that they like to practice at home.
At OJS, we believe homework should be a time for children to share the learning they have done at school with adults at home. It might be that you support them in completing it, or help mark when they are finished. Homework should be a positive and hopefully fun experience to be shared by child and parent, and if you are not finding this, please talk to your child's class teacher for support.
Thank you for your continued support.