At Overdale Junior School, we are committed to safeguarding and promoting the welfare of our pupils; safeguarding is at the forefront of all that we do. We work very hard to ensure children learn in a safe, caring and enriching environment. Children are taught about how to keep themselves safe at school, at home, out of home and online. We teach pupils about developing healthy relationships and how to avoid situations that might put them at risk.
Safeguarding is everyone's business and everyone's responsibility to promote the physical, mental and emotional wellbeing of children.
You can view our Safeguarding policy here for more information: Policy
At Overdale Junior School, we make sure that our approach to looking after our children is always "child- centred"- as a result, everything that we do at Overdale Junior School is in the best interests of our children.
​We believe that by protecting our children from harm and preventing damage to their health or development, we can provide the type of safe and effective care that will allow everyone to achieve "their best possible outcomes".
As a result, our child protection system includes a wide range of services and staff.
​We have a Designated Safeguarding Lead (Mrs Cross) as well as a team of 5 Deputy Designated Safeguarding Leads.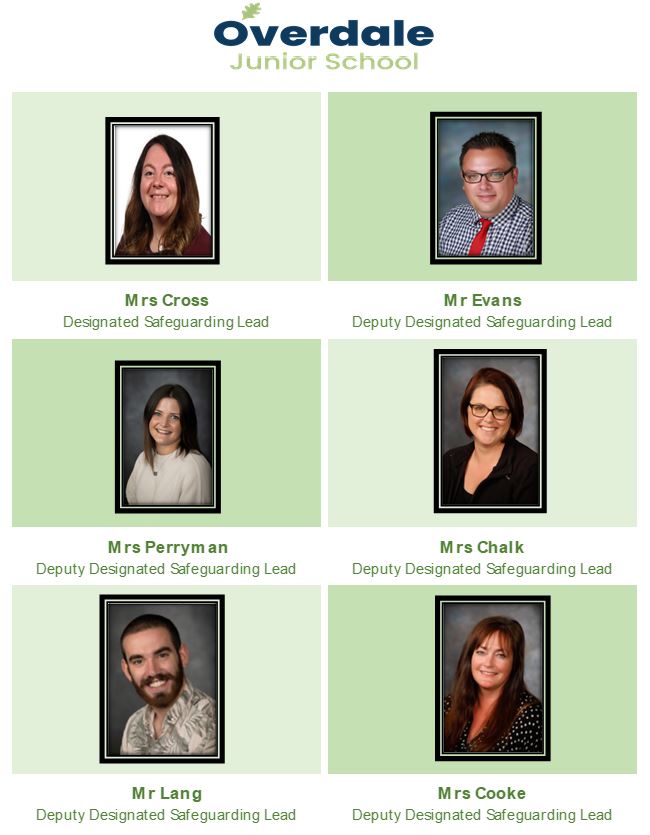 Our designated safeguarding Governor is Mr Smith (Chair of Governors).
The safeguarding leads in school are all well trained, dedicated staff, responsible for a wide range of safeguarding areas, these include:
Listening to and working with children who are in need of help
Supporting staff in their Safeguarding responsibilities in school
Offering advice, guidance and support services to families of children
Organising and monitoring Safeguarding training for ALL staff
Safely recruiting and checking all school employees
Educating all children on keeping themselves safe
Creating and monitoring policies, procedures and records, that support a quality service.
Working closely with external agencies such as Social Care, Health care and the Police
​If you have any concerns or would like to seek advice about any concerns you have for a child that attends Overdale Junior School, please make a phone-call to the school office or send an email safeguarding@overdale-jun.leicester.sch.uk with your contact details and we will get back to you. This email account is monitored daily including weekends and holidays.
​If you would like advice, help or support with any issues that relate to the safety and protection of you and your family please come and talk to any of the Designated Safeguarding Leads at any time.
​ Everybody at Overdale Junior School is keen to improve the safeguarding service we offer to our school community so we would very much like to hear from you if you have any ideas or suggestions that would help us to do just that.
​If you have an immediate concern and feel that a child is at risk of significant harm or danger, please contact the police. You can also contact Leicester City Council Children's Social Care and Early Help who will be able to offer further advice and guidance.
They can be contacted on (0116) 4541004.
Leicester Safeguarding Children Board:
http://www.lcitylscb.org/information-for-parents-and-carers/
Operation Encompass: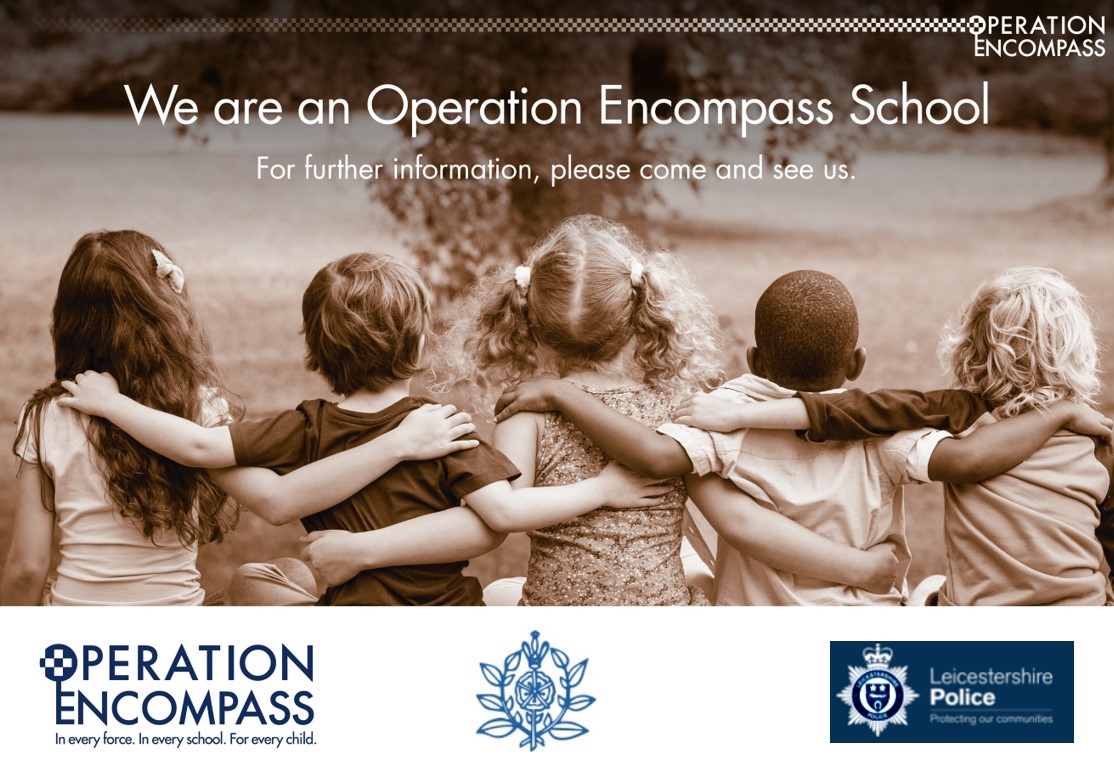 At Overdale Junior School, we are working in partnership with Leicester City Council and the Leicestershire Police to identify and provide appropriate support to pupils who have experienced domestic violence in their household; this scheme is called Operation Encompass.
The purpose of 'Operation Encompass' is to safeguard and support children and young people who have been involved in or witness to a domestic abuse incident. Domestic abuse impacts on children in a number of ways. Children are at increased risk of physical injury during an incident, either by accident or because they attempt to intervene. Even when not directly injured, children are greatly distressed by witnessing the physical and emotional suffering of a parent.
Operation Encompass has been created to highlight this situation. It is the implementation of key partnership working between the police and schools. The aim of sharing information with local schools is to allow 'Key Adults' the opportunity of engaging with the child and to provide access to support that allows them to remain in a safe but secure familiar environment.
In order to achieve this, the Multi-Agency Safeguarding Hub will share police information of all domestic incidents where one of our pupils has been present, with the Designated Safeguarding Lead(s). On receipt of any information, the Designated Safeguarding Lead will decide on the appropriate support the child requires, this should be covert dependent on the needs and wishes of the child. All information sharing and resulting actions will be undertaken in accordance with the Leicestershire Police and MASH Encompass Protocol Data Sharing Agreement. We will record this information and store this information in accordance with the record keeping procedures outlined in this policy.
As a school, we have ensured that a member of our staff, (our Designated Safeguarding Lead - known as a Key Adult), has been trained in the Operation Encompass procedures allowing us to then use the information that has been shared, in confidence, to support the child/ren in our care.
The Domestic Abuse Act 2021 identifies children who experience domestic abuse as victims of domestic abuse in their own right. We are keen to offer the best support possible to all our pupils and we believe this will be extremely beneficial for all those involved.
If you would like to talk to a member of staff about domestic violence or any safeguarding concerns, please either call the office (01162883736) or email at safeguarding@overdale-jun.leicester.sch.uk and request a call from a DSL and we will get back to you as soon as we can.
If you would like to speak to someone in confidence about domestic abuse, you can call the Leicester, Leicestershire& Rutland Domestic Abuse Helpline on: 0800 802 0028
For more information, visit: https://www.operationencompass.org/
Visitors:
Safeguarding is everyone's business. As such we expect all staff, volunteers and visitors to share this common commitment. If you are due to visit the school we ask that you please take the time to read the information leaflet below. The leaflet contains information about our expectations of you whilst visiting the school. It gives information about our safeguarding and emergency procedures. You may wish to print it so that you can read it again if you need to.